1.19-1.20 Wine Tasting
Join us this Saturday + Sunday, Jan. 19-20, for a complimentary wine tasting!
Tastings run from 11:30am to 5pm, and all bottles featured are 10% off.
Prosecco Superiore Valdobbiadene Brut San Boldo NV
Retail: $19.95 | Sale: $17.95
The crisp air flowing through the small mountain pass of San Boldo slows the ripening of the grapes, giving them great freshness and acidity. The driest and most modern version of Marsuret's Proseccos, the essence of "San Boldo" remains delicate with an elegant complexity; a true reflection of the power of terroir. This invigorating sparkler offers plenty of white peach aromas and spring wild flower while the enjoyable palate offers green apple and candied lemon drop. Tangy acidity gives it a crisp finish. Pairs beautifully with linguini in clam sauce or simply as an aperitif.
95% Glera | 5% Verdiso
Yalumba Y Series Viognier 2018
Original: $14.95 | Sale $13.45
Yalumba was founded in 1849 by Samuel Smith, British migrant and English brewer, who had brought his family to Angaston seeking a new life. After purchasing a 30-acre parcel of land just beyond the southern-eastern boundary of Angaston, Smith and his son began planting the first vines by moonlight. Samuel named his patch "Yalumba" – aboriginal for "all the land around." For more than 160 years Yalumba has remained Australia's oldest family-owned winery. Bright straw in color with green hues, the 2017 Y Series Viognier has aromas of orange blossom and fresh ginger with hints of honeysuckle and white flowers. Fresh pineapple dominate the palate with hints of Chinese white tea and dried figs that lead into a creamy mid palate with a silky textural finish. Ideal pairing with harissa chicken or crispy rice pancakes with potato and chickpeas.
100% Viognier
#56 Wine Spectator Top 100 of 2018
La Follette Chardonnay North Coast 2015
Retail: $24.95 | Sale: $22.45
La Follette is a boutique Sonoma County winery intensely focused on crafting wines that offer benchmark expression of vineyard site and appellation. The vineyards here share a coastal trait: cool, foggy mornings, mild afternoons, and chilly evenings, characteristics that contribute to bright fruit and crisp acidity in the wine. An inviting bouquet of vanilla bean, biscuit, and lemon zest lead to a creamy entry that bursts into citrus and nectarine flavors mid-palate. The structure of the wine builds to a fine tension between minerality and acidity. Elegant and energetic, this North Coast Chardonnay is a harmonious blend of tank and barrel fermentations.
100% Chardonnay
90 points Wine Enthusiast
Carra Beaujolais Cru Fleurie 2015
Retail: $19.95 | Sale $17.95
Intense red color, subtle fruity and floral aromas of violet, berry. and cinnamon. Plentiful fruit flavors of striking red and blue fruit. Lavender flavors are sharpened by suggestions of smoky minerals and white pepper. Rich and vivacious, with a long, vibrant finish that leaves a sweet black raspberry note behind. Excellent with red and game meats, and cheeses. Even better after a few years of cellaring.
100% Gamay
Retail: $14.95 | Sale $13.45
Intense blackberry color and aroma jump from the glass. The freshness of the integrated tannins invite you in for a second sip. The intensity continues in a mouth-filling palate and a lingering fruit and mineral finish. Calatayud is a region a short distance from Spain's most famous region, Rioja. This garnacga is produced from 40-100 year old organically farmed vines. Its fresh on the palette with black cherry, leafy, and licorice flavors.
100% Garnacha
Retail: $22.95 | Sale $20.65
The Pasanaus are perennial growers in La Morera, the highest municipality of Priorat, with vineyards at an elevation of over 2,400 feet. Aged for 6 months in French and American barriques, the concentrated fruits are complemented by strong minerality and wood spice on the nose and finish.
80% Garnacha | 10% Merlot | 10% Syra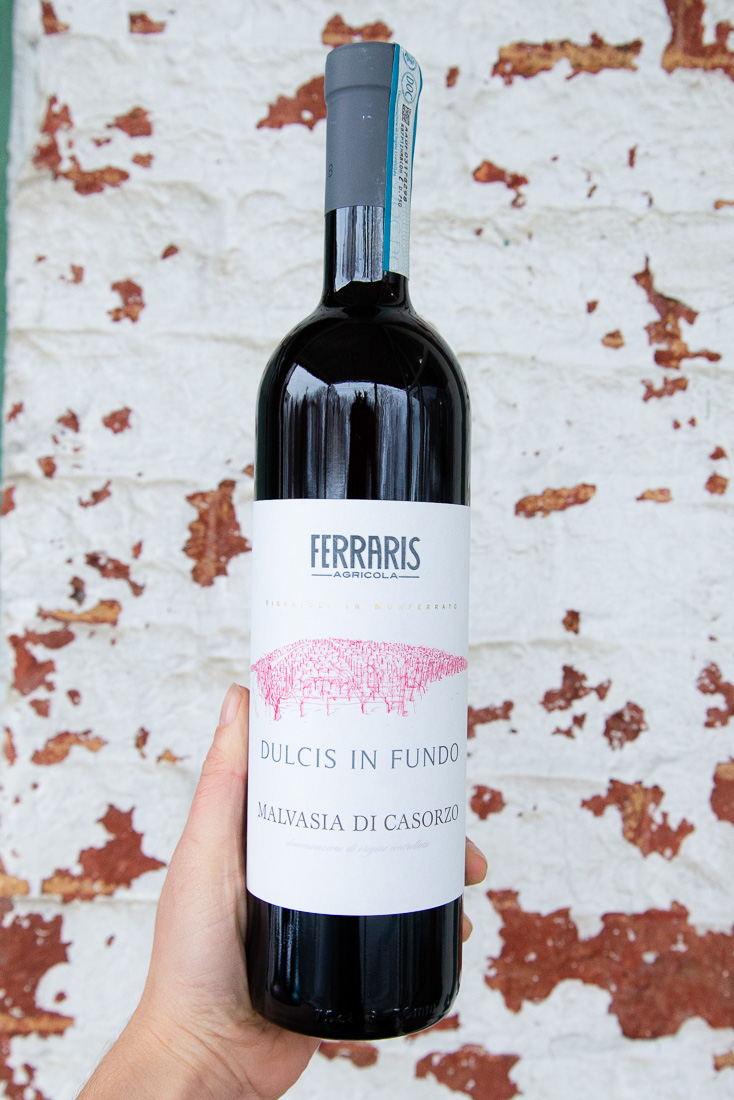 Ferraris Malvasia di Casorzo 2017
Retail: $14.95 | Sale $13.45
Malvasia is a pleasant, sweet wine, and low in alcohol. Made exclusively from grapes grown in the hilltop vineyards of Casorzo and neighboring villages, it's the pride and prestige of the area. The nose and palate bring sweetened red fruits and floral notes together. lt can be paired with desserts, fruit salads, or enjoyed as an aperirif for any party occasion.
100% Malvasia
Sustainable